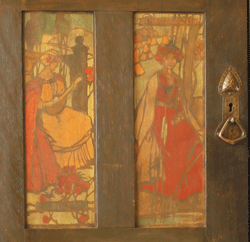 The Liberty range offers much to the collector, encompassing the best of the Arts and Crafts years and also charismatic pieces from earlier  periods.  Confirmation of Liberty provenance is challenging, given the tendency to attribute almost any 'artistic' furniture to the 'style of Liberty'. Whilst many items made by or sourced by Liberty were labelled, stamped or illustrated in catalogues, some were not.  There is no confirmed chronology for identification.  Registration of designs by Liberty e.g. the Thebes stools, was rare. Some furniture and locks were stamped Liberty & Co ( Not L&C  which was the mark for Loach and Clarke and often mistaken as Liberty )and paper labels, followed by a variety of labels appear to follow a sequence in time.  Even if a piece " looks very much like Liberty " it is clear that rival firms copied Liberty designs designs and Liberty did 'buy in' from companies like Shapland and Petter.  It is important also to bear in mind that much of the Liberty Furniture and Decoration Studio work was carried out in private houses and the individual designs for Ingle Nook fireplaces, Hall and Library furnishing were unique.  As only tip of the iceberg of private commissions is known about, this provides a tantalising prospect for collectors. If you have an interesting piece of furniture from Liberty & Co perhaps you could let us know and we may feature it on this website.
Stamps and Labels of Liberty & Co
Perhaps the most frequent and reliable method of attribution is the presence of an original Liberty label or stamped mark. Whilst there is not yet a certain chronology giving the timetable for the introduction of specific labels there are some clues which may help collectors and curators.  Labels which appear original and applied to early pieces ( as identified through catalogues) are rectangular red  paper or white ( possibly faded from red) paper with gothic script.  A diagonal label in orange card fixed with pins and with Registered Design number has also been observed. Two versions of red paper labels have been observed and in each case there are hand written numbers inscribed which may relate to stock numbers. Stamped marks, specifically for Liberty & Co impressed into the underside of  wooden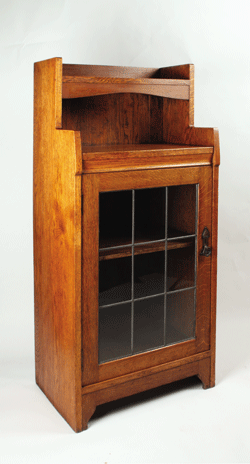 items have been observed and it appears that these stamps were made with individual letter punches, given their irregular spacing.
The most common form of labelling was a small lozenge shaped plaque of ivorine, or enamelled brass. Brass labels with printed detail have also been observed.  Several varieties of ivorine labels have been observed and are illustrated in the Liberty's Furniture book.  The writing on labels in a form of  black or brown ink is printed on the surface and seems fairly resilient to wear, compared to enamelled labels  which tend to chip or crack. It appears that enamelled labels were used on furnishing fitments as was the stamped mark, and there are grounds to believe that enamelled labels suggest and earlier period, i.e. up to 1900. The labels illustrated in the Liberty book are not a complete collection, there are variations, and there is the probability of other stamped marks and papers labels.  There will also, no doubt, be some collectors (and home owners) who have original receipts from Liberty Co. Given all of the information that has been collated on Liberty & Co it is fascinating is to discover a 'new'  piece with genuine label or mark, which has not been illustrated in any catalogue.
A final word of caution on labels is that, ideally the label should corroborate Liberty provenance as indicated by other characteristics.  The oak bookcase illustrated has a label, a stamped lock, a Liberty copper handle and conforms to a known suite of library furniture. A label without any other corroboration on an atypical piece of furniture  might indicate cause for concern.  It is known that a large number of Liberty coat hangers, each with its own label, were sold off at a London street market in recent years for £1 each, and one wonders where some of these labels might end up.
Many examples of locks stamped Liberty & Co have been observed but there appears to be no systematic use of this techniques; some are but many are not, regardless of type of furniture, date or size. Some variation in stamps has been observed, due primarily to the size of the lock stamped. It is important to bear in mind however that locks can easily be moved from Liberty to non Liberty pieces.
Liberty Arts and Crafts a good investment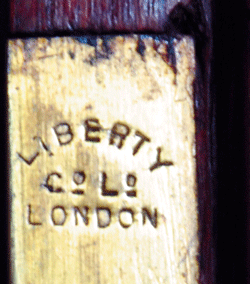 The recent publication of the  Liberty's Furniture book will probably affect prices, given that  Shapland and Petter furniture and Newlyn Copper each improved in value following the books and exhibitions celebrating their histories. Liberty's Furniture provides extensive evidence for identification of pieces and, as this gradually filters into auction catalogues, confidence, demand and prices will strengthen. A number of the items of furniture featured in the book Liberty's Furniture are to be sold privately and details are available on request.
There are several periods from which to choose to build a personal collection.  The earliest pieces to collect are the inlaid Turkish tables or coffee stools which have increased in price significantly in the last 12 months. Musherabehe pieces are also popular as respect for the craftsmanship involved and the cultural heritage of these pieces increases. Early pieces in the simple cottage style, and items from the Art Furniture range are hard to find but tend to be smaller and easily accomodated in a modern home  Larger pieces particularly the charismatic Culloden sideboard, Hambledon bookcase and Holbein sideboard occur at auction rarely and are easily recognised with their powerful metalwork and use of leaded glass. Perhaps the most sought after are the finely inlaid pieces and those in oak with carved motto or intricate metalwork, painted stencilled panels and use of heart or spade piercing. Later pieces from the post Wyburd period such as the bookcase illustrated have an understated elegance with the simplicity of the designs of CFA Voysey. These sit well in a modern home and are still reasonably priced.
Recommended for further research
The Liberty & Co Archive at Westminster Archives.
The Victoria and Albert Museum National Art Library collection of the Catalogues of Liberty & Co