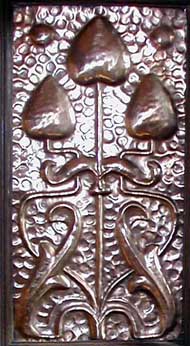 We are grateful for the assistance and encouragement given by a number of people who helped in the early stages of planning this site. Thanks to Jayne Muir, Mike Bedford, Jon and Bron . Thanks to the Millinery Works and Art Furniture Arts and Crafts Furniture Company and to Tony Sanders for permission to reproduce their images. Particular thanks to the Museums which gave permission for the use of images as shown below. All of these images are copyright and cannot be reproduced without permission of the museums identified. Special thanks to Penlee House Museum in Penzance for the permission to use images and for their advice and assistance
Design for a music room by George Logan . Watercolour c1905 Pencil ink and watercolour on canvas. Kind permission of Glasgow Museums

Embroidered panel Margaret Macdonald Mackintosh 1902s Kind Permission of Glasgow School of Art. Copyright Glasgow School of Art
Charles Rennie Mackintosh. Linen Cupboard c 1895 Mackintosh for John Henderson. Kind Permission of Glasgow School of Art. Copyright Glasgow School of Art

Frances Macdonald Honesty Mirror 1896 Kind permission of Glasgow Museums. Copyright Glasgow School of Art

Table by William Morris, 1856 . Kind permission Cheltenham Art Gallery and Museum

C.F.A.Voysey. Design for a Clock case for the Architects own use. 1895 Pencil, watercolour and gold paint. Head Hand Heart; Design for a workbox Permission from Royal Institute of British Architects.

Cotswold furniture at the Cheltenham Collection. Kind Permission Cheltenham Art Gallery and Museum

Design for stenciled mural decoration. Charles Rennie Mackintosh. Kind Permission Hunterian. Art Gallery.University of Glasgow, Mackintosh Collection.

Shapland and Petter Trade catalogue, cover design. Shapland and Petter lable. Kind Permission Museum of North Devon.
Several Images from The Studio Magazine have been reproduced without specific permission, as the owners of the copyright could not be traced. The following are acknowledged
Design for stained glass E. A Taylor

Cover of The Studio Yearbook of Decorative Art

Detail of painting by Gearald Moira.
Other images include:
Cover design for Houses and Gardens M.H.Ballie Scott. George Newnes. Ltd. London 1906