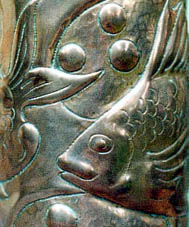 Arts and Crafts is one of the most dynamic areas of the antique market, with a growing amount of interest from British, European and particularly American collectors. Prices have risen significantly in recent years and all the signs are that demand will continue, making Arts and Crafts antiques a good financial investment as well as a joy to live with.
Whilst there has always been a small group of expert collectors, in recent years there has been a widening of the consumer interest in Arts and Crafts style. There are growing numbers of collectors who are searching flea markets, antique fairs and antique auctions for original pieces. There is also increasing interest Arts and Crafts style in interior design and a number of manufacturers are now reproducing furniture, jewellery and decorative items in Arts and Crafts style.
For the serious collector however, it has to be the real thing and people new to collecting are strongly advised to start with a reputable specialist dealer. It is important to see a range of good quality items and to begin to appreciate price, quality, and availability of genuine items. Checking out the range of pieces on offer will help you to start to develop your own particular taste, and to build up a collection around a theme or style. It will also help to build your sense of confidence in establishing the quality and origins of the pieces you are interested in.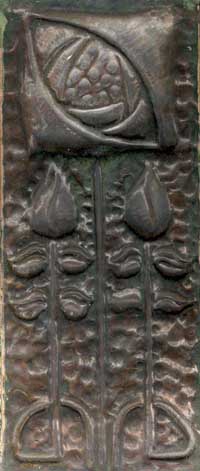 Companies which produced Arts and Crafts furniture included Liberty & Co, Shapland and Petter, Heal and Sons,Maples, Wylie and Lochhead, Harris Lebus, Goodyears amongst many others. Pieces can sometimes be identified by trade marks or registered design numbers. Most pieces however will not be marked and one has rely on the advice of a trusted dealer or build up your own knowledge through experience, reading and talking to other collectors. It will also help to visit exhibitions of Arts and Crafts items, and to see furnishing and fittings in their period context in historic houses such as Kelmscot Manor and Standen House.
Going up-market from the manufacturing companies listed above is possible only for the wealthy; individual pieces by named designers such as Webb, Morris, MacMurdo, Voysey or Ashbee will cost thousands. A piece by Rennie Mackintosh will cost even more. Most collectors however find satisfactory pieces costing several hundred pounds and perhaps two or three thousand pounds for good pieces such as Liberty furniture, or early pieces by Heals. If you want to build up a good collection, start with the nearest specialist Arts and Crafts dealer. Dealers who have been listed on this site are commended by the author.
One of the real thrills in collecting is discovering an unrecognised piece in a car boot sale, junk shop or charity shop and this does happen occasionally, but don't hold your breath. Most people recognise quality pieces and the best pieces will not just sit on a shelf waiting for you to come along. However,if you do like to look for a bargain, the good news is that there are many amateur pieces of metalwork: particulary copper, small pieces of furniture and other craft items made in the many handicraft classes which followed the Arts and Crafts movement from the beginning of the 1900's. These are fun to collect and some will be valuable in time.