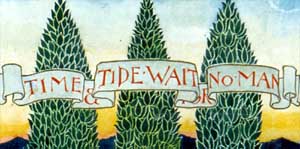 1819

Birth of John Ruskin.

1834

Birth of William Morris.

1848

The Pre Raphaelite Brotherhood formed and first works exhibited.

1851

The Great Exhibition is held in London. Ruskin publishes the Stones of Venice.

1859

The Red House planned and built by Philip Webb at Upton in Kent. Furniture designed and made by Rossetti, Burne-Jones and William Morris.

1861

William Morris established his decorating business at 26 Queens Square London. Morris, Marshall, Faulkner and Co was founded to provide furniture 'solidly constructed and without superfluous ornament'' Maddox -Brown, Rossetti and Burne Jones all worked for the firm.

London International Exhibition featuring a stand by Morris &Co which was praised for archaeological exactness of their imitation of the style of the middle ages. The Exhibition also included furniture by William Burges.

1868

Building News and Charles Eastlake use the term 'Art Furniture' referring to furniture with simple, rectangular designs, preferably unadorned and 'severely Gothic'

1875

Liberty & Co opened in Regent Street London specialising in oriental art and artefacts. Patrons included E.W Godwin,Dante Gabriellie Rosssetti, Burne-Jones, and Christopher Dresser.

Watt's Godwin Catalogue Art Furniture published.

1877

William Morris opens his showrooms in Oxford Street London

1882

The Century Guild established. Arthur Mackmurdo, Herbert Horne, Selwyn Image and Clement Heaton producing furniture, fabrics metalwork and enamels.

William Morris opens his showrooms in Manchester.

Liberty&Co open their own Furniture and Decoration Studios headed by Leonard Wyburd who developed the line in Moorish Design and then Arts and Crafts.

Charles Rennie Mackintosh begins his career as a pupil architect in Glasgow

1884

The Art Workers Guild established, later to form the Arts and Crafts Exhibition Society in 1888. Keswick Scool of Industrial Art founded by Canon and Mrs Rawnsley.

1888

First Arts and Crafts exhibition at the New Gallery in Regents Street, London. Guild of Handicraft founded by C. R Ashbee. T. Cobden Sanderson first to use the term 'Arts and Crafts '.

1890

The Kelmscott Press founded by William Morris.

1893

Ambrose Heal begins working as a bedding designer for the family firm in London. First edition of The Studio magazine, later edition in the same year features An interview with Mr. C. F. A. Voysey, Architect and Designer.

1896

Death of William Morris. Arts and Crafts Exhibition in London features the Glasgow Style designs of Charles Rennie Mackintosh, Herbert MacNair, Margaret and Frances MacDonald The Studio features the Newlyn Art Industries in an article by Norman Garstin

1898

Cymric range introduced by Liberty; Celtic Inspired silver and jewellery designs.

1900

Paris Exhibition

1901

Glasgow International Exhibition featuring the Library Designed by George Logan for the Wylie and Lochhead Pavilion.

Tudric pewter designs introduced by Liberty, designers included Rex Silver, Archibald Knox and Jessie King.

1902

Turin Exhibition; Voyseys' Chair, Scottish Pavillion by Mackintosh

1903

Charles Rennie Mackintosh starts his designs for the Willow Tea Rooms in Glasgow. Liberty and Co take part in the Arts and Crafts Exhibition in london and include four designs by Archibald Knox.

Leonard Wyburd retires from Liberty &Co.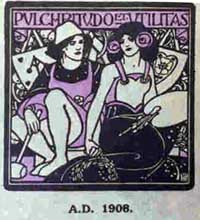 1905

Liberty and Co open their own furniture manufacturing workshops. And publish the

Heal and Son Publish their catalogue featuring oak furniture designed by Ambrose Heal for the Letchworth Exhibition.

1906

Ballie Scott's publishes ''Houses and Gardens''